(A SATURDAY MORNING REPEAT)
OPENING YOUNG EYES,
OFFERING NEW OPPORTUNITIES,
and
MAKING A DIFFERENCE
in the
CARIBBEAN MISSIONS
SUMMER COMPUTER CAMP FOR KIDS
ON THE ISLANDS OF ST. VINCENT AND UNION
VOLUNTEER CAMP DIRECTOR
Ms. Beth Kolodey
Jefferson County Kentucky Computer Teacher of Children
The idea evolved out of these two photos after our new organization, Catholic Second Wind Guild, delivered four used laptop computers to the Diocese of Kingstown, St. Vincent and the Grenadines., supplied by Brown Forman and Epiphany Church here is Louisville. These two photos capture the moment when three young girls are introduced to the world of computers and have their eyes opened. Notice how curiosity turns suddenly to awareness.
Their teacher was their pastor, Father Rex Ramos, pictured below making his way by boat between his three island parishes. Our other organization, R J MISSION PROJECTS, purchased the boat motor.
DO YOU WANT TO SPONSOR A LAPTOP OR TWO?
We may yet get a few donations of used laptops in good working-condition, but we will also have to buy a few used ones.
We hope to offer this summer two camps for kids: one on the main island of St. Vincent and one on the outer island of Union. If they are successful, we hope to repeat them next summer and recruit more volunteers.
THE MORE LAPTOPS WE GET, THE BIGGER THE CLASSES WE CAN OFFER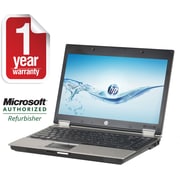 Refurbished HP 8440P 14in Laptop HDD Windows 10 Pro
REFURBISHED
$204.99 each
MAKE TAX DEDUCTIBLE CHECKS PAYABLE TO:
St. Bartholomew Church - SVG Mission Fund
SEND TO:
Rev. Ronald Knott
1271 Parkway Gardens Court #106
Louisville, KY 40217